Dog Training
It is often thought dog training is only needed if you have a problem with your dog...
What if we told you dog and puppy training is not only to solve problem behaviours but also to prevent problem behaviours from ever surfacing?
If you have a puppy, a young excitable dog or an older dog, a rescue dog there is training which can help you prevent problems, solve problems or just teach the basics in obedience and in home manners.
There is no one size fits all in dog training, unfortunately it is not black and white, that is why it is important to create a training program tailored to you and your dog or puppy. What works for you may not work for the next person or dog, and that is why the first step to establishing the right training program for you and your dog is an in home behaviour assessment. During this session while your dog is assessed in its own familiar environment we gather all the information you know about the dog and how you all live together now and how you would like to live together in the future. We are then able to tailor a training program to your individual dogs and families needs. We will also spend time to explain why this program will work for you and your dog or puppy. It is important that you understand why the methods used will work, that will enable you to not only modify your dogs behaviour now, but also to maintain it in the long term.
how old should my dog be?
No dog is too old or too young to be trained. Puppy through to the older dog they can be taught new tricks!!
We are firm believers that prevention is better than cure. For this reason we have set up a specialised program to get puppies settled in to your home and on the right track from day one. This is also the beginning of the correct way to socialise your puppy. It is so important that puppies are taught about the human world from the very beginning so they grow into confident adult dogs.
If this is followed through from the time your new puppy enters the home you can prevent serious behavioural problems from developing and a well mannered puppy with great foundations for obedience.
On the other hand if you have an older dog do not let anyone tell you they are too old to be trained. An older dog who is showing behavioural issues is communicating to you they are missing something they need. It is important we understand what is causing the behaviour in order to help the dog to live more comfortably with less stress.
We work with all ages from puppies through to adolescent dogs all the way through to the more mature!
common problems
Barking

Jumping

Digging

Separation Anxiety

Toilet Training

Escaping

Aggression

Pulling on Lead

Not Coming when Called
These are just some of the problems the team see on a daily basis. If your dog is displaying any of these it is important to understand they will not simply grow out of it and it will not go away over time without some sort of training intervention.
Dogs are continuously communicating with us as dogs, if your dog is displaying any of the above behaviours it is important to acknowledge there is a problem. At this point call in a qualified dog behavioural trainer to help you understand the psychology behind your dogs behaviour and how to help restore balance to yours and your dogs lives before the problem becomes so severe the dog, your home or a life is in danger.
Many people are experiencing problematic behaviours from their dogs on a daily basis and are either keeping the dog in the backyard unable to walk it and just putting up with it, unsure what to do about it or are re-homing their dogs as they feel they are no longer able to have them in their lives. So instead of any of these scenarios which no one wants to think about how about you get some personalised dog training to get you and your dog back on track to living a happy and harmonious life together.
If you are feeling overwhelmed with the training advice you have found, things your have tried or unsure where to go for help contact us now. With the support and specialised tailored programs we can work together to get through the difficult behaviours and into the good ones! You will then not only have dogs which are now a bigger part of your life and more enjoyable but also the knowledge and understanding of why the dog was displaying the behaviours in the first place and how to prevent any further problems from surfacing in the future.
For all your dog training needs on the Sunshine Coast call us today!!
Have a look here to see what others have to say about our training programs.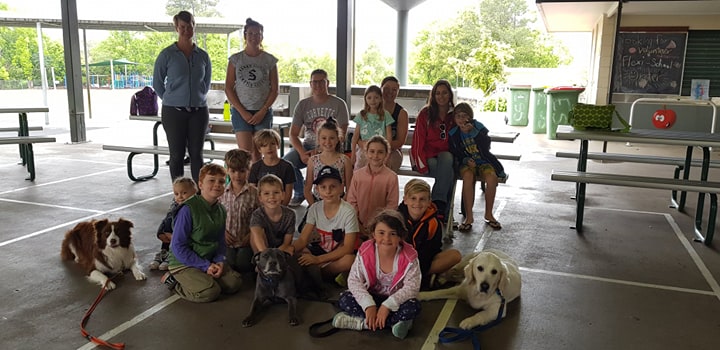 Kids & Dog Safety Workshops
Here at unleashed we are so passionate about preventing dog attacks on children that we run workshops to educate children and their parents on how to appropriately interact with dogs in a safe and fun manner.
Get in touch to book your place at the next event!!
"Very informative, age appropriate and fun, kids loved the workbook"
"I now feel confident with the kids appropriately interacting with dogs"
"Such a great workshop full of valuable information that not only all kids should know but also all dog owners"
Confidence Building Workshops
Lack of confidence leads to so many of the problem behaviours our dogs display.
By building overall confidence we can show our dogs the world is not such a scary place and there are other ways to deal with situations which may have previously caused our dogs to feel unsure, anxious or fearful.
Held regularly get in touch to have your name on the waiting list for the next one.
"We love these workshops, we will definitely attend more in the future"
"Bonus of great socialisation time for my dog during the workshop!"