You have just bought your new puppy home; your dog is being a menace or you just want to brush up on a few skills. So, you begin to look at dog training in your local area. You have a million thoughts and questions buzzing around in your head, who should I use? where are they located? what times are available? what will they teach my dog? how old should I start training my dog? If I do nothing maybe the unwanted behaviour will just stop?. All of a sudden there is a huge amount of information and options available to you, so what do you choose? Group classes, one on one training in your home or in a trainer's facility??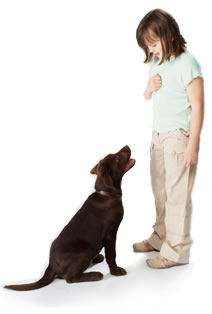 There are benefits to each of these options, however having a trainer come to you in your own home is often the most effective way to quickly and easily create the dog you want to live with.
All dogs, just like humans, require a certain set of life skills to be successful in the world. Once they have these life skills and the required tools they are then more likely to succeed in the classroom which is filled with many high-level distractions. In order to create success a stable foundation must be set first in an environment where the dog is confident and comfortable therefore able to learn new concepts and skills.
There are many dogs out there with amazing obedience who have behavioural problems, I hear all too often "But I did puppy class" or "He has xyz title", however the dog still barks all day, jumps on people or is reactive towards other dogs. So, teaching obedience alone in class settings is not always enough to create a well-mannered dog who can be a good community member.
What are some of the issues addressed in one on one dog training can be:
Barking

Digging

Chewing

Separation Anxiety

Basic Obedience

Jumping

Pulling on Lead

Escaping

Toilet Training

Not Coming When Called

Basic Good Manners
These are just a few of the problems, however as each session is tailored to you the possibilities are endless.
What are the benefits of one on one dog training?
Faster results- As training is tailored to your individual needs in your environment for the entire session results are much faster than a group situation.

Involves the whole family- Consistency is the key to getting good results, if the whole family is on board results are even better.

Tailored to your dog's needs- There is no point listening to a whole class if problems or needs when none of them are relevant to you and your dog.

Real life practice- You get to practise right then and there in the environment where the problem occurs with the support of your trainer.

Training is a lifestyle- You should not get to the end of the day and think "has anyone has trained the dog today?", it should be short lessons that are trained throughout the day. It is like parenting, unfortunately we don't get to just do it for half an hour a day, it is constant reminders and small lessons. If most of the time you spend with your dog is at home, it makes sense that most of your efforts should be concentrated at home.

Long term results- The cause of the behaviour must be determined in order to create long term results. Quick fix band aid solutions will likely see the problem reappear fairly quickly as it is simply a treatment of the symptom and not the cause.

Suits a busy life- Training at a time that suits you and not having to leave your own home or travel is much easier for the busy lifestyle many of us lead these days.

Life time support- One on one training should not be a single event, there is support from your trainer throughout the life of the dog. As dogs grow and mature things change and sometimes a little reassurance or a tweak here and there is needed to brush up on previously learnt skills.
As one on one dog training is tailored to you and your dog's individual needs you can do as much or as little as you like. You may like to resolve the annoying behaviour your dog has and will be happy with that, or you may like to go further and have fantastic obedience at high level distraction.
When you book one on one dog training sessions with Unleashed Dog Behaviour Training you will receive all the information to help you understand why your dog is displaying unwanted behaviours, a program tailored to you and your dog with information and demonstrations on how to fix the cause of the problems, written information which you can refer back to at any stage of your dog's life, ongoing life time support for you and your dog.
If this sounds like it is something you need in yours and your dog's life get in touch by calling me or filling out the contact form using the link below.